Explore

Repgong Mepa Luru Festival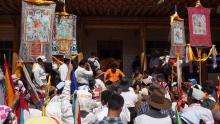 These photos illustrate the Luru Festival performed annually in Mepa village, Repgong County, Amdo. Repgong is located in the south-east of cultural Amdo, in Malho Prefecture (Huangnan), Qinghai Province. It consists of two towns, eleven townships, three urban neighborhoods, 75 villages, and 12,688 households.
The Luru Festival is associated with a ritual in which various members of society make offerings to local deities. Villagers celebrate by offering meals, performing ritual ceremonies, making offerings of incense, and performing traditional plays. There are many villages that have started to celebrate the Luru festival in the last couple of years. However, if one is interested in the historical Luru festival, complete with ancient connections and procedures, the villages of Sakyi, Sori, and Thaiwu still practice in the traditional way.
Videos from the same festival are available at: https://audio-video.shanti.virginia.edu/subcollection/luru-festival-repg...
Images in this subcollection
Owner
tkj8j
Accessibility
This subcollection is Public - accessible to all site users
Parent Collection
Members
* denotes that this member is inherited from a parent collection